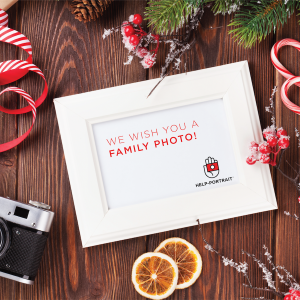 Hello and welcome to our corner of the web!  We are Help-Portrait Lafayette and we are run by the local creative community, TuesdaysTogether Lafayette, and the local photography community, f/765.  We have partnered with Help-Portrait as our way to give back to the community.  Each of us love our community and everyone in it so we always want to give back when we can.
Our event this year will be held on Sunday, December 3, 2017 at Rat Pak Venue in downtown Lafayette, Indiana from 10:00 a.m.-2:00 p.m.  We will be giving free portraits to everyone.
We believe that every family deserves to be honored and celebrated. That's why we will be hosting a free family portrait event for the Lafayette community!
This is a great way to get the entire family together for a photo that will be cherished for years to come. There will be photographers, photo editors, hair stylists, makeup artists, and more at the event so you can make sure your family looks great for absolutely no cost!
Make sure you're ready to receive a free family portrait by following these three steps:
1. Pre-register online by clicking the "Sign Up" tab above (Walk-ins are also welcome).
2. Join us December 3 at the Rat Pak venue between 10:00 a.m. and 2:00 p.m.
3. Receive your free photos!
We hope to see each and every one of you there!  If you would like to volunteer for the event by donating your time, talent, or a monetary donation, please click the "Volunteer" tab above, fill out the form, and we will be in touch!